Introduction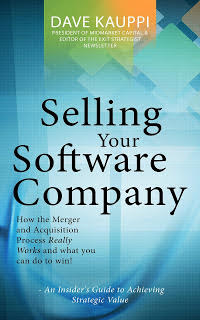 This book ('Selling Your Software Company') took me seventeen years to write. Well, not literally. What I really should say is that over seventeen years in representing sellers of technology companies, we have gained the experiences that comprise this manuscript. It is different from an individual business seller telling their story because theirs is limited to one deal. Our experience is from representing a broad cross section of technology businesses to a wide range of buyers.
No two deals are the same and we continue to learn  with each new engagement. Often times the lessons learned in the business sale process are very expensive lessons for business owners that try to navigate this process alone. What we do is not rocket science or brain surgery, but it is dependent on building on a strong base of experiences. Maybe an example will help illustrate. Remember the first time you did a project from changing your car oil to mounting a new door? I do. When I mounted my first door it took me over 4 hours and a number of corrections and adjustments. My second door took me one third the amount of time with very few errors. Now think about that first time experience with a far more complex process with millions of dollars at stake. CLICK HERE TO SEE THE BOOK ON AMAZON
For a free list, Essential Reading For Tech Company Entrepreneurs – 20 Books that Will Change How You Look at Your Business please visit our website at www.midmarkcap.com/mmc
Our book consists of many articles and blog posts we have written over the years. Our purpose is to capture the valuable lessons from our engagements and then share them with potential clients while they are still fresh in our minds. The more important function that this content performs is to prepare our current clients for each stage of the merger and acquisition process before we enter it. We send them the article on buyer questions, or letters of intent, or corporate visits, or buyer negotiation tactics in a stress free teaching environment.  We make sure that they are prepared prior to the often times very emotional stage of the deal process. If a deal blows up because our client was unprepared, it is on us. So our sellers are prepared.
I like to compare excellence in M&A transactions to excellence in golf. In golf you have to be at the top in every aspect of the game in order to excel. You can't just be a great driver or great putter and expect to win. You have to be a good ball striker, scrambler, chipper, putter, driver, sand player and thinker to reach the top of the game. It is the same in M&A. It does your client no good to create huge value with a great business marketing campaign only to give it away with a loosely worded letter of intent and the buyer hacking away at the value through due diligence and closing.
The successful M&A process is multi-faceted and each stage must be performed at the highest level in order to achieve maximum strategic value for the client. As we tell our clients, if you want to sell for strategic value you must first create a great technology and great company.  You must then be able to capture and articulate that value in a professionally managed and competitive M&A process.  That process consists of being able to convince qualified buyers the strategic value of your company in their hands. Several like-minded buyers should be engaged in a competitive bidding process which must be artfully done because buyers withdraw if they think you are overtly playing one against the other. That part, to use our golf analogy,  is just the "drive for show". The "putt for dough" part is to intelligently craft and negotiate a Letter of Intent that prevents erosion in transaction value through due diligence, the definitive purchase agreement and closing. We hope you enjoy and learn from THE INSIDER'S GUIDE TO ACHIEVING STRATEGIC VALUE.

Dave Kauppi is the editor of The Exit Strategist Newsletter, a Merger and Acquisition Advisor and Managing Partner of MidMarket Capital, providing business broker and investment banking services to entrepreneurs and middle market corporate clients in information technology, software, high tech, and a variety of industries. Dave graduated from The Wharton School of Business, holds a Series 63 and is a registered business broker. Dave began his Merger and Acquisition practice after a twenty-year career within the information technology industry. Visit MidMarket Capital to learn about maximizing your selling price, valuation of intellectual property, minimizing taxes, negotiating tactics, Letters of Intent, how to select an advisor, and much more.