Download your Free White Paper – Valuing The Growth Rate in the Sale of a Software or Technology Company
For technology business sellers, there seems to be no mechanism and certainly no attempt on the part of buyers to account for the selling company's growth rate. In the public market this factor is widely recognized and is accounted for with an improvement in the PE multiple. This paper proposes a methodology that can be applied to privately held, growing tech companies creating substantial improvements in their business selling price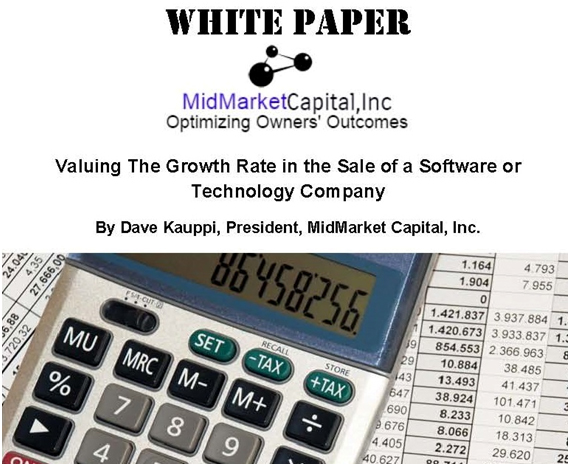 Representative Topics Covered in the Exit Strategist Newsletter
10 Steps to Maximize Selling Price
The Pricing Dynamics of Selling a Business
How Not to Sell Your Business
Ten Commandments of Selling Your Privately Held Business
The Unsolicited Offer to Buy Your Company – What Should You Do?
Subscribe To Articles
We are constantly updating our knowledge base with actual experience from the M&A process, new tools to reduce taxes, creative deal structures, valuations, etc. If you would like to subscribe to receive our new Exit Strategist Newsletter please enter your contact information below. We will send you a follow up confirming email in which you will have to click on the link to verify that you do in fact want to receive these articles.